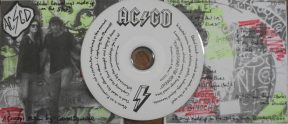 AC/GD- "Global Recordings made up on the Spot" – a concept album by Gavin Doniger
Global Tracks- Recorded and made up on the spot! In hostel rooms, train stations, parks, subways, airport terminals, lounge rooms, street corners & foreign coast lines. "EXPRESSING THE MOMENT"!
Music is an expression, not a perfection, captured in the moment. That is what this Album is about- Capturing the Moment!! Capturing that first thought and laying it down influenced by the surroundings you're in!
"Global recording made up on the spot"
1. Bass Boogie (part 1) – recorded on Manringdamn Strauss, Berlin (AC lead guitar, GD bass riff)
2. Berlin- recorded on Museum Island, berlin (GD guitar/vox))
3. Diamonds in Wood- recorded on Perrisa beach Santorini Island, Greece ( AC-lead guitar, GD- guitar/vox)
4. Mr Ferry Man (part 1+2) – recorded near the Acropolis, Athens (GD guitar/vox)
5. Grober Park Blues- recorded in Grober Park Berlin, waiting for my friends Krister, Mary and Timmin (AC-lead guitar, GD- guitar/vox)
6. Drunken Mary- recorded @ the Generator Hostel in Hamburg after a large night out drinking German beer! (AC guitar, GD vox/harmonica)
7. Thought I was Dead- recorded outside the Tivoli in Copenhargen, Denmark (AC lead guitar, GD guitar/vox)
8. Mando Shake Out- recorded @ Josefine's apartment in Goteborg, Sweden (GD mandolin)
9. My Baby- recorded in Angie's apartment just south of "Gods country" during the cyclone Feb 2013 (AC lead guitar, GD guitar/vox)
10. Shake it like you Took it- recorded in Paris Metro, Odeon- (GD guitar /vox)
11. 45- recorded in Stockholm airport waiting for connector flight to Goteborg (GD guitar/vox/tamborine)
12. OH Yeah- recorded in the Palace, Gods Country, Tugun(GD ukulele)
13. Grotto Blues- recorded in Stromstad in the Gronnings Grotto, Sweden (GD slide guitar)
(Available at Gavin Doniger Solo shows or email gavin@gavindoniger.com)
AC/GD are: Angie Charles and Gavin Doniger
Copyright 2014