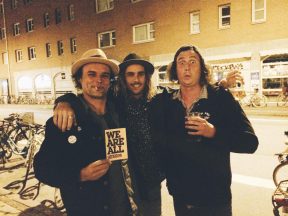 Hello there fellow music lovers!! Sorry for the delay on reporting my tour from September this year! Have been having problems with my website!!
Sept 2014 and I'm back in Sweden for the 4th year running. I played and amazing show the 1st night i got to Gothenburg after 54 hours in Transit and I'm rockin out a show. Not just any show but a show with a full backing band– The Swedish Kangaroos (not my usual Mescalito Blues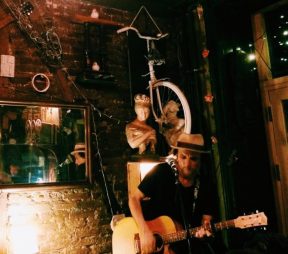 !"Gavin Doniger and the Swedish Kangaroos" (I first thought i was the support act before the band but the band was my band for the night! With No rehearsals and just meeting the guys we rocked up some of my original blues and folk songs! Was a crazy 1st set, thinking this could go either way good or bad, but the guys playing with me were so onto it it was a Rockin set and the owner @ BAR KOM could not beleive that we could make it sound this good without practice without knowing each other without ever even playing music together! THis show would have to be one of the high lights of my career over the last 15th years!!! Amazing musicians- Simon Lindkrantz, Olle Schelander, Henrik Pilquist, Erik Berndtsson and Richard Tehler! 2nd set of the night i did solo with stomp box and borrowed acoustic Guild that Olle was kind enough to lend me to play (my guitar was still in Paris- between Malaysian Airlines and Air France it didn't make it to Gothenburg till 2 days latter) , 3rd set we got the band going again and by the end i was just singing and laying down ad lib lyrics to blues grooves! Was a great night one that will stay with me for a long time! Play a gig sleep deprived is not always the best way to go but tonight it was working great, its like being on some really good drugs but its freeeeee!! Cant wait to Rock it up with my Swedeish Kangaroos next Summer 2015!! Next was Copenhagen were I did two shows one at Tjili Pop in Narrebro, and one in the middle of town at the best blues club in Copenhagen- "MOJO's" blues bar! Both shows were killer gigs! was great to meet Cletis Carr @ Mojos , keen to do some show with you bro!! Copenhagen is one of my favorite cities…….. I will report more of my trip when I have some time!! Off to the studio I go!! Peace, Love, Music!!