I would like to thank everyone who has performed with the Mescalito Blues:Dale walker, Steve Collins, Benny Firesign, Joey McPhail, Liam Bowditch Tim Rourke, Dale Walker, Mattie Barker, Elliot Hammond, Louis Sattovia, Deforrest Wiggins, Al Birch, George Carpenter, Glen "Mex" Heferrnan, Carl Birch, Phil Frasier, Simon Strommstad, Alberto Gothenburg, David Barcelona, Noah Engh "Kid Fantastic"
Thanks to everyone who has supported Mescalito Blues over the last 10 years: The Doniger Family, Brandon Family, Angie Charles, Holzy, Mumsey, Grubby @ Peacefrog Screenprinting for the rehersal and recording space , RW Promotions, Maranda Music Tweed Heads, Al n crew @ Print n Wear, Tully Travels, Sand Panthers, Josefine Borjesson in Gothenburg, Nina in Copenhagen, Leon-Krister-Mary in Berlin,Deforrest Wiggins,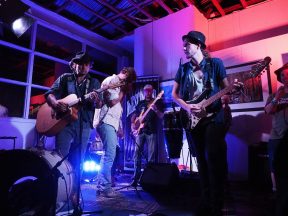 Gayna Melt Café, Noah Engh, Sheeny for fixing my dings for nothing,Larry "12 string" Taylor, Big Trev, Andy Tism and all the venues around the Globe and Australia who have given me a show!!
Looking forward to another 10 years!!
Peace, Love, Music