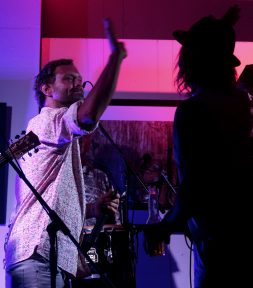 2015 has been a great year for Gavin Doniger and Mescalito Blues. With over 100 shows played in 2015, Dale Walker notching up 5 years with Mescalito and celebrating our 10years of Mescalito Blues Stompin in March @ The Dust temple, Currumbin. Its a year to remember. Thanks to all the amazing musos that filled in on shows and added some flavour forming a Trio some nights. Special thanks to Wayne Harp/Percussion, Liam Bowditch, Joey MacPhail, Glenn Heffernan, Carl Birch and Tony Randall! Amazing musicians with great sense of timing and feel! THanks You!!!!!
Here are some highlights from 2015:
In May Gavin had a succesful solo tour thru the West Coast of the USA . Doing shows with "Kansas City Bankroll" in Hollywood @ the Piano Bar. Also some shows in Longbeach and up to San Francisco and out to the desert in Las Vegas.
The Mescalito Blues got back in the Tour Bus and took there "Original Swamp Stompin Blues/Folk" music to the Central Coast and Northern Coast of NSW. Hitting the Rails Byron, Billinudgel Hotel, Lennox Hotel, Bangalow Hotel, Shaws bay Hotel Ballina, Australian Hotel ballina, Nimbin Hotel, Riverview Hotel Murwillumbah, Hoey Moey in Coffs Harbour,The Pier Hotel and Finnians Irish Pub in Port Macquarie, Star Hotel in Wauchope, 5 Church Street in Bellingen, Maclean Hotel and The Pacific Hotel in Yamba, Wingham Hotel. Thanks to Shani @ Offbeat Entertainment for organising alot of our shows down south! Thanks to Julia Slatter for Solo tours down south. Look out for Gavin Doniger and Mescalito Blues in 2016 heading your way soon!!!( Next Tour 4th Feb to 8th Feb, check gig guide for listings)
November the Mescalito boys headed up to Airlie Beach for the "Airlie Beach Festival of Music" for 3 shows. was a great 3 days, good croweds, awesome venues and an amazing back drop with the Whitsunday in your backyard. Was great to see Butto and crew! Thanks to Heath, Pa and Rosie @ Walter Lounge, Port Airlie ( best cocktail bar in town)
The last few months the Mescalito Blues have been back in "Little Pink" studio recording a new 5 song EP- "Moonshine Ochre" due out early 2016! Thanks to George Carpenter for his amazing talents in the studio!!
Enjoy your Christmas people, live and love music it is one thing that stands true in your life!
Get ready to Rock in 2016!
ps. also released this year The Van Bams- Lazula Moon ( a side project Gavin does with Liam Bowditch and Joe MacPhail from "The Vultures"…check it out on reverbnation and facebook)
Peace, Love, Music