Moonshine Ochre is the latest musical offering from worldly (by way of the Gold Coast) rootsy blues practitioners Mescalito Blues. Main Mescalito Gavin Doniger is a real-deal musical journeyman who has frequented stages and traversed back-roads near and far since 1998, delivering travel worn tales together with a ragtag cast of support musicians on his wavelength who he happens to hook up with along the way.
Doniger delivers the five weather beaten numbers which constitute Moonshine Ochre with gritty gusto, giving the EP an air of timeless authenticity borne from a love and respect of the real-deal source material being channeled. Although forging a reputation for dishing out heady doses of stompin' back-water blues, there's also plenty of musical light and shade to be found within these grooves.
Opening track Leapfroggin' Toad is a slow burner, perfectly showcasing Doniger's gravelly growl and economically impressive, blues inflected guitar playing.
Deep Sunshine delivers a dose of desert blues underpinned with a mystical folk undercurrent, demonstrating the musical variety and dexterity Mescalito Blues have embraced across their journey.
Pale Skin commences with a warm hum before flowering into a gorgeously moody, finger picked number, Doniger's contemplative vocal delivery and a heart melting organ interlude half way through delivering one of the high watermark moments of the EP.
Heart Strings is all low slung hangdog blues, Doniger back in the role of grizzled troubadour, a grimy guitar riff complemented with simple percussion driving the point home as he delivers the chorus 'stop pulling on my heartstrings' in a measured growl.
And final track Dadda Mountain follows the template of Deep Sunshine but goes further beyond in channeling epic desert folk blues… this man walks misty valleys as well as dusty backroads.
For those with a penchant for authentically played roots and blues with a bit of dirt under the fingernails, Moonshine Ochre may be your ideal musical tonic this winter. Doniger and Co also frequently tread the boards around these parts, so be sure to also catch a dose of Mescalito Blues in the flesh as they jam it out across local stages.
Available on I-Tunes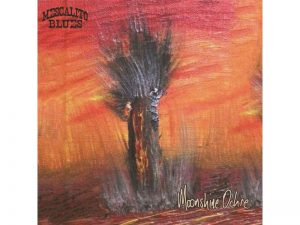 By Anthony Gebhardt