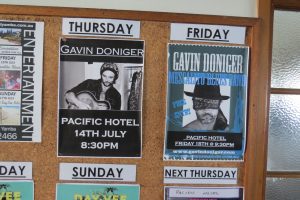 Pacific Hotel in Yamba is and has always been one of my favorite places to play over the last 10 years, and Thursday 14th July was no exception! Performing a solo show in the front bar. Theres always a few punters getting into it and enjoy a beverage and shooting some pool!Around my 2nd set the crew from the Grafton races get back and the front bar starts to arrupt! The crew from race day are animated and start dancing and yar=hooing and getting everyone else into it( They even get Danny dancing)! There getting into it, Loving my Blues, the Dylan and Stones songs I slip in-between my originals compasitions! A few punters get a little too excited dancing and fall into my stage knocking over my mic nearly knockin me over in the process, but its OK I never stop stomping, Lionel does some quick roadie work and i'm back singing and the music keep flowing!
Its a crazy night with crew literally throwing money at me! All up I got tipped $320! Sold a bunch of merch got drunk with the crazy race crew and had one of the most fun Solo shows I'd done in years!!
Thanks to the Tom and everyone at the Pacific Hotel, love coming down and playing music for you guys!
Looking forward to Summer 2016/2017!
Peace, Love, Music…….and Guns n Roses!!!