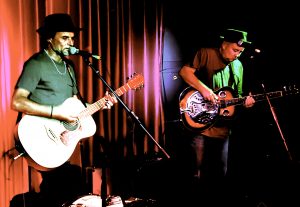 Its always a buzz to go play a new venue. Friday 18th November saw the Mescalito Blues boys head up to Brisvegas to do a show at The RETRO BAR.
What a cool little place. Ran by Richard Harrison, being a muso himself, he has a passion for music and providing great hospitality and enjoyment for all who come to The Retro Bar. With a good range of craft beers on tap and a great selection of wines, spirits and cocktails to suit your taste.
We kick of our 1st set at 8pm. The place is jumpin and the blues is in full swing. We play thru our "Swamp Stompin" set of originals tunes. With my vocal growl and Mex's dobro slide , we got the crowed in a trance! "Take me Away" really gets em dancing and we take a break to go and chat with the friendly crowed that has immersed in the Retro Bar.
For the 2nd we set the pace starting with "Street Stompin Blues" (from "Love of Stompin" LP) in to some "Catfish Queen", then we throw in a song from Hendrix, a bit of "Voodoo Chile" with "Mex" slipping from some tasty wah wah licks to his signature Slide riff, its electric. The dynamic is really workin tonight and the punters are loving our "Raw Stripped back Dirty Blues", we also pull out "Mescalito", "Norma Jean","45″, "Graveyard" and everyones favorite "Love Love". We finish the night with "Live n Be" (Gavin Doniger-The Broken 3-EP. Available 29th Nov), the punters love it so we give them one more and crank out our unique version of "Sympathy for the Devil"!
Thanks to Richard for having us up at the Retro Bar. We will be back to play you some more "Swamp Stompin Blues" on 10th FEBRUARY 2017!