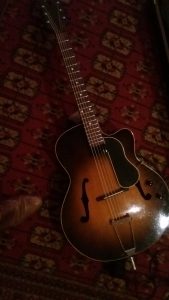 Its Tuesday 29th November, "6:45am and I'm boarding a flight from Gold Coast to Melbourne". I arrive around 10:30am Melbourne time. Good friend and fellow musician Liam Bowditch picks me up and we head towards Balaclava- Woodstock Studios!

We arrive and George Carpenter is there to meet us. (I've recorded a few records with Georgie, now with him based in Melbourne doing his Recording, Engineering Producing here, I organised to come down and record 4 songs in 2 days with him and Liam) He's already been setting up his old Gretch "glitter gold" drum kit and getting some sounds. We are lucky enough and have Richard Stoltz (owner operator of Woodstock Studios) engineering for us today. This guy knows his stuff!!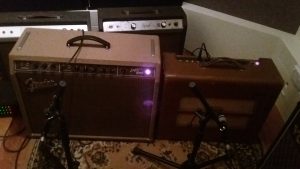 I walk into Woodstock for the 1st time, into the main room and its wooden floors, beautiful old Neve early 70's '8014 console, an array of guitars, up right piano an old Werlitzer, its amazing. A bit overwhelming at the start, since i've never recorded in a place this flash with this much awesome gear! And thats just the start.
To get my sound I'm playing my old '59 Maton "Jazz Box", we put it thru an old Fender Super and a Gibson suitcase using bayer mics (same model mic Hendrix used) The boys tweek it and its sounds dirty!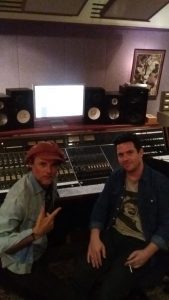 Liam has an assortment of guitars and uses the Fender Tele and Gibson Les Paul. (Paul on "I need a Job", Tele on "MY My My" and "Oh Lord".We also used on the drum sound and original Telefunken U47 as the overhead mic.
Creating , working up these four new tunes was so much fun. Sometimes studio recording can be nerve racking, feeling like you are under a microscope. But I'm not feeling that here in Woodstock studio. The vibe is good, the energy is high and everyone is keen to lay down some good tracks!
Liam Bowditch's playing just gets better and better everytime I see him, his feel and style is great. Today is no exception, pulling out some "old schoo" leads and great counter rhthyms. (At 20 years of age , this kid has a bright future. Check him out playing around Melbourne). George's energy is always inspiring , he gets the best out of the players. Has a great insight for working up a song and adding some tasty yet subtle parts. And with Richard keeping the session flowing, setting up pulling down etc. (He even set up this early 60's Hammond B3 organ and Leslie 122 Cab to drop a very cool part on "I need a Job") The day runs smooth!
.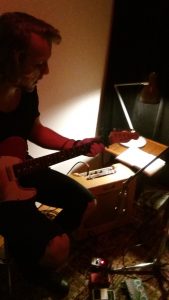 A 12 hour day in the studio and loved every minute of it!
Thanks to Liam and George for making this possible, great playing guys. Lets do it all again soon.
Big thanks to Richard Stoltz for engineering the session and putting his thoughts in when needed. Love the studio mate, so warm , so relaxing. See you soon!!!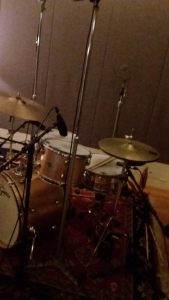 New LP out 2018!
Merry Christmas- Happy New Year!!!
Gav/
Mescalito Blues