The "Blues on Broadbeach" Festival is always a blast! This year things started off a bit wet, but that didn't stop the punters! "Our gig at Envy on Friday night was pumpin, people were totally getting into it!!". We performed "Blues in Ruin" and "little Mumma" in the 1st set. Two new songs that have that Husky Swamp Blues feel that's been missing around blues fest in this country of late. Blues on Broadbeach is one festival that does get a lot of Blues acts performing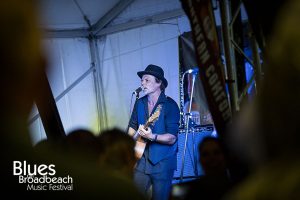 Always assured of a Big sound at the Blues Fest, and 2017 was no exception. The Kick drum was thumpin, with a thud that you could feel hit you each time the stomp set off. Mex's guitar tone was cutting thru with its swampy tones!!
Great Festival, with great crowds and great Organisation.
See you all there in May 2018!!