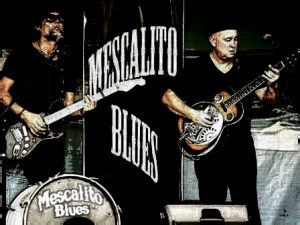 Another Cracking night at the Rails!
We get there to set up and the weather is not on our side. Bit of rain around, few hanging around having a beer. The rain always seems to keep people away usually? We crack into our first set and as we get going it starts to fill up, by the end of the set the place is filling up nicley. 2nd set is Rockin and the new songs like " Show Me the Devil", " My My My", "Oh Lord" go over great. The rain didn't stop them coming and we all end up having a lot of fun!
Mex really mixing it up with his slide tonight, tasty licks and some cool bass grooves thrown in as well! Mescalito is really starting to get that "Husky Blues" sound down!



Thanks to all that hung out and danced,Sympathy and LiL Suzie were kickin, Mescalito they were dancing up a storm and Mex's version of Voodoo Chile always gets a good reaction. You guys were Rockin out there in the crowd tonight!! Thank You, it always makes it a lot more fun for us!!!Also thanks to the dude who bought the Fro girl shirt! "This guy had a killer fro himself"!!
Till next time!