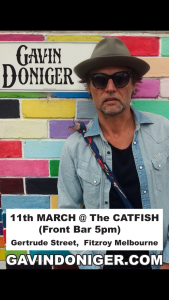 Gavin Doniger is a singer/songwriter from South East Queensland.
He has performed in over 15 countries around the world , has recorded in Down Town Los Angeles with his U.S. band The Broken 3, has toured the East and West Coast of Australia many times as a solo artist and with his main act Mescalito Blues.
He will be performing at the Catfish on 11th March. " It has been a few years since I performed in Melbourne. Have always loved the vibe of this city and the people hear really seem to appreciate Original Live Music. Am looking forward to playing some new tracks at this show", says Doniger.
His unique Raspy/Growl vocals and Hypnotic Rhythm/Stomp will get you moving.
"Swamp Stompin Blues" is what he plays. His tongue in cheek lyrics sometimes heart felt, other times short stories of his travels with fictional pictures bought to life thru song. You won't forget this voice.
Check out Gavin Doniger, Sunday 11th March 5pm @ The Catfish, Fitzroy Melbourne- Front Bar!